ACI Walletron
Drive Mobile Wallet Engagement With a Dynamic Pass
Leverage today's smartphone native wallet functionality to provide secure, digital experiences that increase self-service payments and reduce costs
Drive Self-Service and Lower Costs With a Digital Engagement Engine
Forge closer and more productive customer relationships by delivering real-time account or loyalty program information and notifications via Apple Wallet and Google Wallet.
Overcome app fatigue and augment existing strategies using a dynamic wallet pass with single-sign-on links
Establish digital relationships from day one with fast customer onboarding via enrollment buttons, QR codes or SMS links
Provide robust identity authentication and a familiar, trusted customer experience with native Apple and Android biometric protections
A single configuration panel makes for an easy-to-use, low-maintenance digital engagement platform
Stay Ahead of Consumer Preferences
36.3% of today's consumers use mobile wallets to store non-payment items such as digital tickets, boarding passes or loyalty cards.* As consumers feel more safe and familiar with mobile channels, they increasingly value the convenience and efficiency of these payment methods, resulting in increased usage on a regular basis.
Configure and launch ACI Walletron in weeks instead of months
Customize features and functionality for your company and industry needs
Drive one-time payments with bill-due notifications and a dynamic pass that updates based on payment status
Digitize cash payments using personalized barcodes and real-time posted payments
---
"We're now able to offer our customers the modern mobile payment solution they expect because of our partnership with ACI Walletron."
Rob Nightingale
Product Manager, Octane
Cut Through the Clutter To Drive Digital Engagement
Up to
4
days earlier payment collection**
33%
decrease in call center payment inquiries**
92%
retention rate after one year**
Digitize Licenses and IDs
Deliver licenses, identifications, permits and parking passes directly to a consumer's mobile wallet. Consumers can add the ACI Walletron pass to their mobile phone by scanning a QR code or clicking a link in an email or text message.
Utilize mobile IDs that won't be left at home
Provide a secure, convenient, contactless payments option
Update, renew and revoke licenses and permits in real time
Enable hunters and anglers with easily accessible licenses
Present actionable links to hunting and fishing regulations and to report harvested game in real time
Reach more consumers without requiring another app to download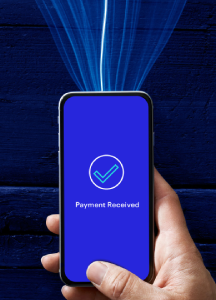 The State of Mobile Billing and Payments
Mobile Wallet Trend Report
Explore consumer preferences for mobile wallet billing and payments and how you can drive adoption.
GET MORE FROM YOUR Billing Platform
Expand Your Bill Payment Capabilities
Send and receive money in real time with ACI Worldwide's bill payment software solutions
ACI Speedpay
Integrated suite of digital billing, payment, disbursement and communication services that lowers the cost of presenting and accepting bill payments while delivering industry-leading security
Alternative Payment Methods
Provide customers with more ways to pay their bills online, anytime with Apple Pay, PayPal and Venmo payment options
Bill Payment API: Payments Authorization, Processing and Remittance
ACI's bill payment engine API enables outsourced bill payment processing while you maintain control of the user interface
Mortgage and Loan Payment Processing
Provide your customers with a fast, simple and secure way to pay bills online using their preferred payment methods
PCI Compliance Software
Minimize your organization's PCI scope and help maintain compliance with the right PCI compliance software solutions
Virtual Collection Agent
An online, 24/7 debt collection service designed to emulate your best collection agents while increasing the overall consistency and efficiency of your debt collection process
Integrated Treasury Management
Get paid faster and simplify reconciliation.
Real-Time Disbursements
Send money in real time to one or multiple parties through the latest payment options, including consumers' debit cards
Digital Installments
Offer your customers simple, satisfying and convenient buy now, pay later payment options