Mobills
Mobile Wallet Bill Presentment, Payment, Identification and Communications
Engage with customers using the native digital wallet already on their phone to easily present bills, provide a link to make payments, send valuable alerts, authenticate identity and more
Convenient, Seamless Mobile Billing and Payments
ACI moBills is a mobile payments platform for customers that provides a convenient, seamless bill presentment, notification and payments experience via the native wallet available on most smartphones.
Support cash-preferred consumers with barcode payment tokens for use at participating retail locations
Send ACI moBills directly to customers' mobile wallets as a personalized card
Offer self-service payment deferral requests based on pre-determined criteria, with the Delay My Payment feature
Drive customer engagement and increase loyalty
Digitize Licenses and IDs
Deliver licenses, identifications, permits and parking passes directly to a consumer's mobile wallet. Consumers can add the wallet item to their mobile phone by scanning a QR code or clicking a link in an email or text message.
Utilize mobile IDs as student identification
Provide a secure, convenient contactless payments option for students
Provide convenient access for identification
Enable hunters and anglers with easily accessible fish and wildlife licenses
Present actionable links to hunting and fishing regulations and to report harvested game in real time
Offer a simpler license renewal process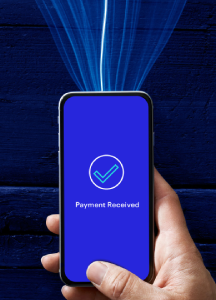 The State of Mobile Billing and Payments
Mobile Wallet Trend Report
Explore consumer preferences for mobile wallet billing and payments and how you can drive adoption.
Meet Mobile Bill Payment Demands
One in four consumers currently uses mobile wallet payment methods, and nearly half (47.6%) are using them daily or multiple times per week. Give your customers always-on access to information that allows for better self-service.
Simplify the consumer experience with mobile bill delivery and presentment
Enhance payment alerts with notifications sent directly to customer's devices
Boost digital engagement with links to consumers' complete statement and product documents
Allow easier customer enrollment — as simple as snapping a picture of a QR code or two taps in Apple Wallet or Google Pay
Up to
4
days earlier payment collection
20%
reduction in payment confirmation calls
33%
decrease in call center payment inquiries
4%
reduction in early-stage delinquency
RELATED BILL PAY SOLUTIONS
Explore More Solutions
Learn about our additional solution capabilities.
ACI Speedpay
Integrated suite of digital billing, payment, disbursement and communication services that lowers the cost of presenting and accepting bill payments while delivering industry-leading security
Virtual Collection Agent
An online, 24/7 debt collection service designed to emulate your best collection agents while increasing the overall consistency and efficiency of your debt collection process
Real-Time Disbursements
Send money in real time to one or multiple parties through the latest payment options, including consumers' debit cards
Electronic Bill Presentment and Payment Services (EBPP)
Deliver a better, integrated billing and payments experience for every generation and situation
Bill Payment API: Payments Authorization, Processing and Remittance
ACI's bill payment engine API enables outsourced bill payment processing while you maintain control of the user interface
Integrated Treasury Management
Transform your treasury back-office operations with a streamlined, integrated solution.